Chinese developers miHoYo are o top of the world following the global release of Genshin Impact. The open world RPG has become one of the most popular mobile games since its launch. Genshin's popularity has risen to the point it has broken multiple records. Therefore, some could say, it has had quite an 'impact' worldwide.
The success of Genshin Impact comes as great news for Chinese game developers like miHoYo. Analysts have broken down this success to highlight the journey of game development in the country over the past 15 years. Industry analyst Daniel Ahmed, who covers the video game market in China/Asia, has valuable insight on the issue.
Sensor Tower recently covered the success of Genshin in a comparative with other popular mobile games. They also placed this information with the help of Daniel's findings in the context of the growing Chinese game development industry.
Genshin Impact grossed $245mil in a month since launch
Sensor Tower reported that Genshin Impact earned close to $250 million from players' in-game spending. The figure is from a one-month period starting from the launch of the game on September 28. It has been averaging approximately $60 million per week since launch, and its growth doesn't seem to be slowing down just yet.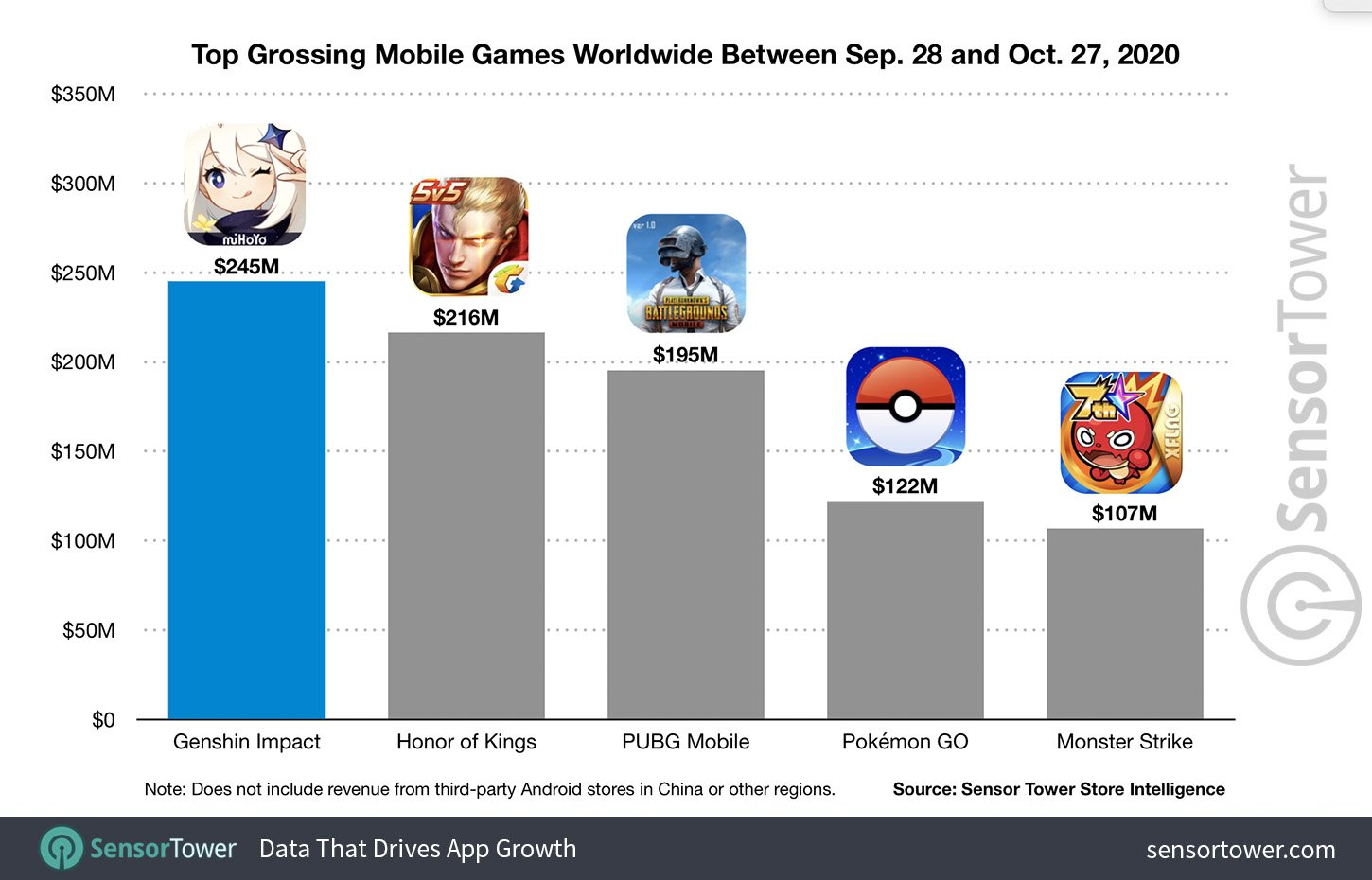 The game has already crossed popular games like Fortnite Mobile in terms of launch revenue. Moreover, it has also crossed the gross earnings of viral games such as PUBG Mobile, Pokemon Go, and Honor of Kings that topped the mobile charts in terms of monthly revenue. The major markets for GI in this period have been China, followed by Japan and USA, respectively.
Chinese developers making strides in the West
Talking about this success, Daniel Ahmed said, "Chinese game developers have long looked to capture Western audiences, without losing their audience at home." 
He also talked about the journey of game development in China and how GI is the perfect example of its achievements.